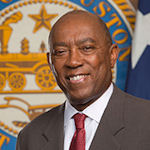 Greetings, fellow Houstonians!
I understand the frustration and have heard the calls from Houstonians for something to be done about our streets.  My pothole repair initiative is the first step in gaining your trust on this issue.  The goal is to assess and repair potholes reported to the 311 Help and Information Line by the next business day.  As part of this effort, we have streamlined operations and put in place improved customer response protocols.  I know this is a short-term fix, but it is a step that we need to take to get us to the long-term solution for our streets.  I know our hardworking City street crews are up to the challenge.
This website has been created to provide information about what is and what is not a pothole as well as access to real-time graphs and charts about our progress.
If you haven't done so already, please download the 311 app from iTunes or Google.  It's the fastest way to report potholes and other street conditions.  You may also call 311 to submit a report. (If outside Houston, dial 713.837.0311.)
Thank you for helping us to make Houston streets safer for all drivers.
Best regards,

Sylvester Turner
Mayor